Obama to meet GOP leaders: Should Democrats be worried?
President Obama will meet with GOP leaders from the House and Senate Tuesday for the first time since Election 2010. Some Democrats worry that he could be too willing to compromise.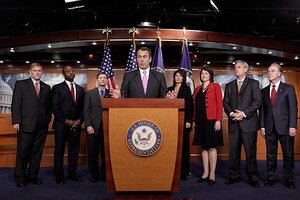 Yuri Gripas/Reuters
President Obama meets Tuesday with Republican leaders for the first time since midterm elections flipped control of the House and gave the minority GOP a stronger hand in the Senate.
For a White House that has kept GOP leaders at an unusually long arm's length, it's a moment to recalibrate relations – a prospect that has many congressional Democrats on edge. For an administration that has spent its first two years trying to build Democratic supermajorities in the Senate, the question is now whether Mr. Obama should play ball with the Republicans – and how much he should compromise.
"I think this is the beginning of a new relationship with leaders in the House and the Senate," said White House press secretary Robert Gibbs at a briefing on Monday. "I think this is the beginning of a longer-term conversation about how we get to compromise on issues that we know are important for the American people."
The White House agenda for the meeting focuses on extending Bush-era tax cuts, now set to expire at the end of the year, for middle-class Americans, as well as moving to swift Senate ratification of a nuclear-arms pact with Russia, the Strategic Arms Reduction Treaty (START).
---