For California Republicans, was Election 2010 debacle a wakeup call?
No Republicans were elected to statewide office in California despite strong gains for Republicans elsewhere. One reason: Republicans ran afoul of the Latino vote in Election 2010.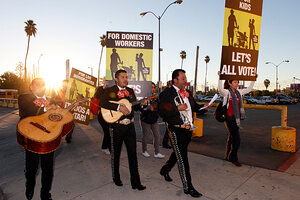 Damian Dovarganes/AP/file
Steve Cooley followed the political playbook perfectly to get elected California attorney general this November.
The three-term Los Angeles County District Attorney piled up endorsements from newspapers, law enforcement, and Latino organizations while trumpeting his record of prosecuting corruption. He led every poll leading up to the election.
But in an evolving California, where immigrants continue to exercise ever-greater influence on politics and society, apparently none of that was enough to overcome a single letter next to Mr. Cooley's name: R.
Cooley's loss to Democrat Kamala Harris contributed to something that has happened only twice since 1882: No Republican was elected to statewide California office. This, in a midterm election that saw Republicans make historic gains in Congress and improve their standing across the country.
This week, a poll released by Public Policy Institute of California (PPIC), has thrown a harsh light on Republicans' challenge in California: If they want to win statewide elections consistently, they need to make more headway among California's immigrants.
"If you look at the composition of California compared to elsewhere, you find it has a much more diverse electorate reflected in the Obama coalition, whereas the rest of America is older, whiter, and more conservative … more on the McCain side of things," says Villanova political scientist Matt Kerbel. "That's the main reason that the Democrats ran the table there."
---