If Americans had a vote, would they back deficit commission report?
Americans appear to back the intent of the bipartisan commission report – cutting the deficit – but it is less clear whether they approve of the panel's dramatic solutions.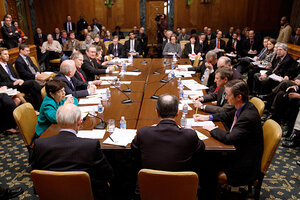 Harry Hamburg/AP
The deficit commission has spoken. What do the people think?
Judging by recent opinion polls, the American public is deeply concerned about rising federal debt and its implications for the nation's future prosperity.
But it's harder to tell if US voters would vote to move forward with a plan that reduces the federal deficit by nearly $4 trillion over the next decade, a plan backed Friday by 11 members of President Obama's fiscal commission. After all, those panel members had to weigh the costs and benefits of a complex fiscal plan – and boil it all down to a yes or no decision.
That's very different from the typical poll question.
Deficit commission plan: Four points of contention – and agreement
The conventional wisdom is that the kind of tough decisions that might help fix the deficit – tax hikes or spending cuts in popular programs like Medicare – are toxic choices that could cost politicians their jobs. Opinion polls bear out that risk, but they also at least hint at another political peril, the risk of inaction on debt and deficits.
Consider a USA Today/Gallup poll taken in November, about two weeks after an election in which deficit-bashing tea party voters helped propel Republicans into control of the US House of Representatives.
---