Moveon.org for the middle: Can Nolabels.org cure partisan politics?
Part political action committee, part grass-roots organizer, Nolabels.org has an ambitious goal: to combat partisan politics and be a zealous advocate of the 'radical middle.'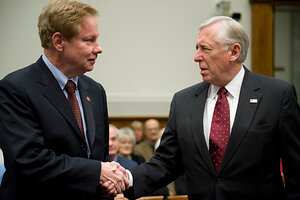 Douglas Graham/Roll Call/Newscom
The American public has been saying for years that it wants bipartisanship – or better yet, nonpartisanship. Barack Obama campaigned for president on it. As voters, more and more Americans self-identify as independent, even as the two major parties cater to their ideological wings.
Enter Nolabels.org, a well-funded effort backed by a high-profile group of politicos pushing what it calls nonideological policy solutions and bipartisan comity. The initiative, which boasts support from the likes of New York Mayor Michael Bloomberg (I), Sen. Joe Manchin (D) of West Virginia, Rep. Bob Inglis (R) of South Carolina, and New York Times columnist David Brooks, formally launched Monday with a day-long program in New York City.
---