Will Harry Reid keep the Senate in session through Christmas?
Senate majority leader Harry Reid wants to take up a slew of important issues after the tax deal is passed – from a $1.2 trillion budget bill to a repeal of 'don't ask, don't tell.'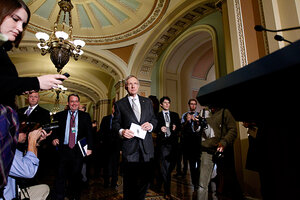 AP
One day after senators on both sides of the aisle signaled broad support for the deal extending the Bush-era tax cuts, leaders of the two parties indicated how far apart they are on virtually everything else left for the lame-duck session of the Senate.
On Tuesday, Senate majority leader Harry Reid laid out an ambitious three weeks, potentially keeping senators in Washington through the holidays and calling votes on controversial issues ranging from the START nuclear arms pact to the immigration reform DREAM Act.
Republican leaders, by contrast, offered a more modest agenda: pass the tax-cut deal, pass short-term funding for the government to avoid a shutdown, and go home.
The showdown is a matter of political calculus. Republicans want to delay as much business as possible until after Jan. 4, when the new Congress arrives, bringing with it a Republican majority in the House and five more Republicans in the Senate.
While Democrats don't have the numbers to overcome Republican opposition in the Senate – where 60 votes are needed to halt filibusters – they want to force Republicans into controversial votes against key Democratic priorities.
---