College-educated and illegal: Immigrants pin job hopes on DREAM Act
For most college educated illegal immigrants, landing a good job proves difficult. The DREAM Act would help some of them, but critics decry it as step toward a broad amnesty.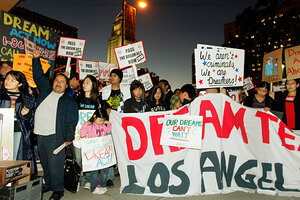 Damian Dovarganes/AP
Tina was 3 years old when her mother carried her across the Rio Grande into the United States. Plucked from her birthplace, the Mexican mining town of Zacatecas, she grew up in a Chicago suburb. She studied hard, earned high grades, and enrolled in a local community college – making her the first in her family to go to college.
Tina wasn't done. In May she graduated from Northern Illinois University in DeKalb with a bachelor's degree in history and political science. She hopes to become a lawyer. "I've always wanted to help people out," she says.
But no amount of academic success has been able to remove the stain of her illegal entry to the US two decades ago. Now 24, she cannot escape the fear of being discovered, not just by immigration authorities, but by others, too. "Some people look on you as a criminal," she says. And without legal status many avenues remain closed to her – including the bar exam. Even some of her relatives warned her that she was setting her ambitions too high.
"They'd say, 'No, you can't because you don't have this, you don't have that,' " says Tina, who, like other undocumented students in this story, declined to give her real name for fear of deportation. "I'd say, 'You know what? I can.' "
Determination is not hard to find among the tens of thousands of undocumented students who either are attending or have graduated from American colleges and universities. Indeed, it may be a prerequisite to overcoming the enormous legal and financial difficulties they face. "It's astounding how many of them find ways to pursue their education," says Joshua Hoyt, executive director of the Chicago-based Illinois Coalition for Immigrant and Refugee Rights.
---