Fresno State student president outed as illegal immigrant. Does it matter?
Fresno State University student body president Pedro Ramirez was revealed to be an illegal immigrant by an anonymous tip. He says he won't step down.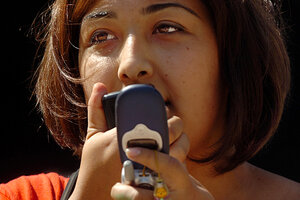 Rick Sforza/The Sun/AP/file
An anonymous student at Fresno State University outed student body President Pedro Ramirez – revealing that Mr. Ramirez is an illegal immigrant the day after the state supreme court ruled that illegal immigrants could claim in-state tuition.
The incident is further evidence that the issue of undocumented immigrants at US colleges is becoming increasingly heated, with 10 states allowing in-state tuition for illegal immigrants.
Moreover, Congress continues to consider the DREAM Act, which would provide a path to citizenship for illegal immigrants who were brought to the US as children and attend college or join the military. Senate majority leader Harry Reid has vowed to bring the bill to a vote this year.
Could you pass a US citizenship test? See how you score.
Mr. Ramirez, brought to the US from Mexico when he was 3, says he didn't know he was not a citizen until he was a senior in high school. Elected student body president last June, Ramirez is working without the $9,000 stipend for his position because he refused to lie on employment papers.
---