'Death panels' controversy: Is Obama avoiding Congress?
The Obama administration is set to expand options for 'end of life' counseling for Medicare recipients. The White House says it's practical. Sarah Palin says it's akin to 'death panels.'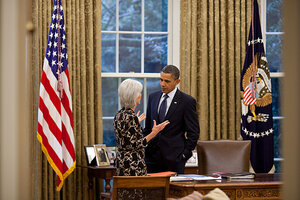 Newscom
In a move that could resuscitate the partisan battle over what Sarah Palin dubbed "death panels," the Obama administration is set to implement a controversial federal health-care provision by executive authority.
The new rule would pay doctors to consult with Medicare patients who want voluntary counseling about health-care options in the case of terminal illness.
The Obama administration casts the change as minor, saying that these are common-sense discussions that doctors are already having with patients – and doctors should be reimbursed for them. Critics like Ms. Palin suggest that it is a step toward limiting care for those with terminal illnesses, which can be enormously expensive.
The shape of the debate in Washington is a hint of things to come during the next two years. With Republicans gaining new clout on Capitol Hill after the 2010 elections, President Obama could seek to bypass the Congress by executive authority. Other flash points concern new rules for greenhouse-gas emissions, mortgages, education, and credit cards.
"You'll see a lot of game playing between the House and White House in the new Congress," says Larry Sabato, a political scientist at the University of Virginia. "The Republican House will try to squeeze and restrict through the law, and Obama will try to expand and augment through rulemaking."
---