Speaker John Boehner: Now the hard part begins
As Speaker John Boehner takes up his gavel Wednesday, his agenda and leadership style will come under almost immediate scrutiny. The challenge: to govern and not to obstruct.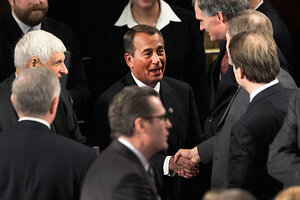 Charles Dharapak/AP
Rep. John Boehner (R) of Ohio takes the gavel as Speaker of the House Wednesday – a momentous step that represents a personal triumph and a political resurgence for his party.
But Congressman Boehner won't have long to savor his victory. Now the hard work begins, as he strives to balance the desires of tea party-backed newcomers to slash spending with the realities of Washington and the limits of his own new powers.
How will he interpret his governing mandate? Will he rush into conflict with President Obama over White House priorities? That would appear to be the case, given that one of the first orders of business in the new House will be to vote to repeal Mr. Obama's signature health-care reforms.
Five ways Republicans will change the House
But the American people might want more from their new speaker than confrontation and gridlock. Numerous polls taken since the 2010 midterm elections show that the majority of voters want the two great parties that govern the US to cooperate, instead of confront each other, notes William Galston, a senior fellow in governance studies at the Brookings Institution.
---