Gabrielle Giffords shooting: a leadership moment for Obama, Boehner
Gabrielle Giffords tragedy – and that of 19 others killed or wounded during a mass shooting Saturday – puts special demands on President Obama and new House Speaker John Boehner.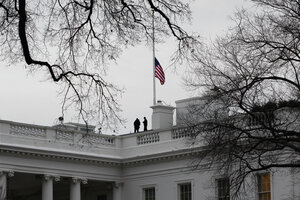 J. Scott Applewhite/AP Photo
In the face of tragedy, the job of political leaders is to set the moral tone, offer words of comfort, project authority – and leave the politics to others.
President Obama and Rep. John Boehner, the newly installed Republican speaker of the House, have done just that in the days following the shooting rampage Saturday in Tucson, Ariz., that took the lives of six people and injured 13 others, including Rep. Gabrielle Giffords (D) of Arizona. She remains in critical condition in a Tucson hospital after being shot in the head.
When news of the Tucson tragedy broke, Mr. Obama moved swiftly, following perceptions that he had reacted slowly in the "underwear bomber" case on Christmas Day 2009 and with the BP oil spill last summer. Saturday afternoon, he made an in-person statement on the incident and sent FBI director Robert Mueller to Tucson to oversee the federal investigation. On Sunday, he called for a national moment of silence at 11 a.m. Monday, which he and White House staff will observe from the South Lawn.
---