Congress readies new gun-control bills after Gabrielle Giffords shooting
One gun-control measure would limit the number of rounds in a clip to 10. The suspect in the Gabrielle Giffords shooting allegedly had a 30-round clip, allowing him more shots before reloading. Another bill would ban guns within 1,000 feet of some government officials.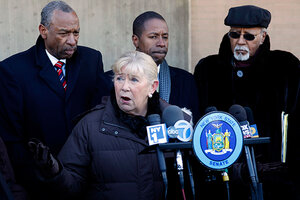 Seth Wenig/AP
Congressional advocates of gun control are preparing legislation to renew a ban on high-capacity ammunition magazines of the sort suspected used in last Saturday's shooting rampage in Tucson, Ariz.
Such a ban was in effect between 1994 and 2004 as part of a ban on assault weapons, which also expired. Since then, clips such as those allegedly used by suspect Jared Loughner, which contained more than 30 rounds, have been available for purchase without restriction. Legislation restricting ammunition magazines to a maximum 10 rounds is in the works by Rep. Carolyn McCarthy (D) of New York and Sen. Frank Lautenberg (D) of New Jersey.
The tragedy in Tucson might not have resulted in so many deaths and injuries if the gunman had been limited to 10 rounds before attempting to reload, gun control advocates say. In all, six people died and 14 were wounded 14, including Rep. Gabrielle Giffords (D) of Arizona.
Congresswoman McCarthy, who ran for Congress after her husband was killed and son injured in a 1993 shooting on the Long Island Rail Road, suggests she is focusing on ammunition magazines as opposed to the weapons themselves in a bow to political reality.
---
Follow Stories Like This
Get the Monitor stories you care about delivered to your inbox.