Key omission from Obama's State of the Union address: gun control
President Obama did not mention several hot-button topics during the State of the Union, such as abortion. But given the Jan. 8 shooting in Tucson, Ariz., gun control was notable in its absence.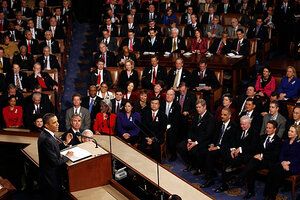 Evan Vucci/AP
As lengthy as President Obama's State of the Union address was (62 minutes), there was plenty more he could have discussed. In fact, interest groups watched with a keen eye toward a mention of their respective causes – from immigration (check) to gay rights (a quick mention of "don't ask, don't tell," but not gay marriage) to the protests in Egypt (implied, perhaps).
But the one issue he skipped that may have raised the most eyebrows was gun control. After the Tucson, Ariz., shootings on Jan. 8, which killed six and injured 13 – including Rep. Gabrielle Giffords (D) of Arizona – Tuesday night's State of the Union address was an obvious moment for Mr. Obama to lay out what he thinks or maybe even proposes.
There, after all, in the middle of the House chamber was an empty seat for Congresswoman Giffords, who is recovering in Houston. Obama kicked off his speech with a reprise of his remarks at the Tucson memorial service – the call for unity and civility, the poignant reminder of the little girl who died, her parents and brother seated in the balcony with Michelle Obama.
---
Follow Stories Like This
Get the Monitor stories you care about delivered to your inbox.