Obama's innovation push: Has US really fallen off the cutting edge?
Obama sees a push to innovate as the answer to a stalled economy and falling US status. Critics say staying on the cutting edge is not what ails America.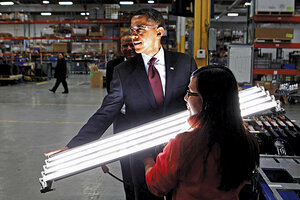 Larry Downing/Reuters
It may sound odd to say that the United States has an innovation challenge. After all, America is the nation of Franklin and Edison, space telescopes and smart phones. It was ranked No. 1 in innovation last year among 139 countries by the World Economic Forum.
"We do big things." That's how President Obama put it recently. But the president had a reason for that innovation pep talk in his State of the Union message, and for making the issue a prominent theme of his budget proposal this week.
He wasn't just pivoting toward the political center. At a time when the US needs millions of new jobs, the nation's competitive edge may be eroding. That's the view of many on the economy's front lines, from business leaders to policy experts to public officials.
In just two years, the US has slipped from first to fourth overall in the Global Competitiveness Index, a ranking by the World Economic Forum. The US can claim top billing in the index's "innovation" component, but other nations are gaining.
"Make no mistake about it: We are in for the fight of our lives," says Robert Ackerman, founder of Allegis Capital, a Silicon Valley venture capital firm. "We are still world-class," but "the only way that we are going to reinvigorate our economy in the United States is through [continued] innovation."
---