Obama touts high tech, business investment at Intel in Oregon
President Obama visited Intel Corp.'s large manufacturing plant in Oregon Friday. He named Intel CEO Paul Otellini – who's been critical of the administration's economic policies – to the Council on Jobs and Competitiveness.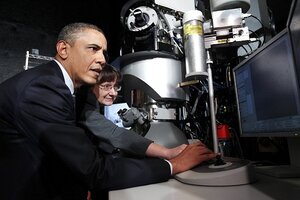 Kevin Lamarque/Reuters
President Obama's brief visit to an Intel Corp. manufacturing plant in Oregon Friday – the morning after his Thursday dinner meeting with Silicon Valley's top CEOs – serves two purposes. It gives him another chance to push education and the high-tech industry, and it's an important buddy moment with a Republican business executive who's been critical of the administration.
Both are intended to boost the country's long-term economic recovery – and, not incidentally, advance Mr. Obama's image as a pro-business president.
Oregon may be known for timber and salmon – its major state universities are nicknamed the "Beavers" and the "Ducks" – but in recent years high-tech has replaced logging as the major industry here.
RELATED: American innovation: 13 born-in-the-USA inventions
Intel is headquartered in Silicon Valley, but its largest manufacturing plant is in Hillsboro, Ore., just west of Portland. The company employs 15,000 people in Oregon with an annual payroll approaching $2 billion, making it the largest employer in the state.
---