House Speaker John Boehner unleashes new GOP freshmen
House Speaker John Boehner is taking a sharp turn from former speaker Nancy Pelosi's command-and-control style. He's letting his new freshmen act more independently. The battle to cut spending while avoiding a government shutdown is the first test.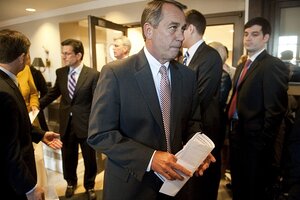 Newscom
The schedule was shot – final votes on a massive bill to fund the government past March 4 had been set for Thursday -- the House floor had just erupted in hoots and shouts, and John Boehner, Speaker of the House for just 45 days, was beaming.

"This was like diving off a 50-foot diving board your first dive – to do all of government," the Ohio Republican told a handful of reporters in an impromptu meeting Friday night, just off the House floor. "There's no example of the People's House better than what you've seen here. They've had a real debate, and they loved it."

Not everyone loved it. Senior Democrats – who had seen their legacy on issues ranging from health care reform and financial regulation to greening initiatives in the Capital defunded by the new majority this week – called it a travesty.
"The only good thing about it is that it will go nowhere," said Rep. Barney Frank (D) of Massachusetts, whose signature Wall Street reform law was drained of resources by floor votes this week.

But for the bumper crop of Republican freshmen – the engine of the new majority – this week marked a decisive coming out.
---