If a government shutdown occurs, what actually happens?
Here's what to expect if Republicans and Democrats in Congress don't reconcile their differences on spending for the last half of this fiscal year ... and a government shutdown ensues.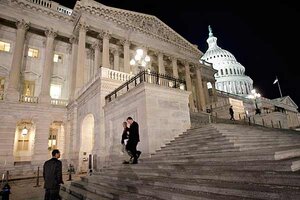 J. Scott Applewhite/AP
House and Senate leaders are more than $60 billion apart on how much to spend or borrow to pay for government after March 4, when the funding for the current fiscal year runs out. If no one blinks, Washington could be headed toward a shutdown – the 16th since Jimmy Carter was president.
Most shutdowns lasted fewer than three days. One of the most famous, the standoff between President Bill Clinton and House Speaker Newt Gingrich over balancing the federal budget – lasted 21 days, from Dec. 16, 1995, to Jan. 6, 1996. That shutdown furloughed some 800,000 federal workers; delayed processing of visas, passports, and other government applications; suspended cleanup at 600 toxic waste sites; and closed national museums and monuments as well as 368 national park sites – a loss to some 9 million visitors and the airline and tourist industries that service them.
It was, as Republicans had predicted, a "train wreck," but it hit them hardest. Americans blamed the Republican House more than Mr. Clinton for provoking the shutdown, by a margin greater than 2 to 1.
RELATED: Michele Bachmann, Rand Paul, and 8 others shaking up the new Congress
Here's what to expect, if Republicans and Democrats don't reconcile their differences on spending for the last half of this fiscal year:
---