Peter King hearings: Are American Muslims the problem or the solution?
A hearing chaired by Rep. Peter King to investigate radicalization within the American Muslim community touches on an important topic, terrorism experts say. But they question the tone.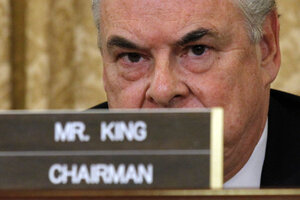 Alex Brandon / AP
Emotions ran high at Thursday's hearing investigating radicalization within the American Muslim community – the first hearing of a probe that Republicans say will continue at least until the 2012 elections.
"I remain convinced that these hearings must go forward, and they will," said the chair of the House Homeland Security Committee, Rep. Peter King (R) of New York, during his opening statement. "To back down would be a craven surrender to political correctness and an abdication of what I believe to be the main responsibility of this committee: to protect America from a terrorist attack."
Radicalization is a legitimate target for a congressional panel charged with homeland security, says Bruce Hoffmann, director of the Center for Peace and Security studies at Georgetown University. But the challenge with today's hearing is that the topic – "The extent of radicalization in the American Muslim community and that community's response" – appears to put the onus on the American Muslim community as the source of the problem.
In fact, "the Muslim community itself is the solution to this challenge, not the problem," says Professor Hoffman, who has studied terrorism and insurgency for more than 30 years.
---