US role in Libya mission: Top Democrats say Obama got it right
Top Democrats in the Senate and House back Obama's commitment to help enforce the no-fly zone over Libya, and accept his assurances the US role as mission leader would be brief.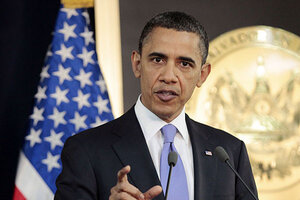 Pablo Martinez Monsivais/AP
With Congress in recess, the response on Capitol Hill to President Obama's decision to commit US forces to a new mission in Libya has been sporadic, mixed, and mainly from rank-and-file members.
But top Democrats on Wednesday rallied behind Mr. Obama's decision to support the enforcement of a UN-authorized no-fly zone and avoid a massacre of Libyan civilians.
"Actions taken by the international community have already prevented Qaddafi from implementing his threat to 'show no mercy' to his own people, including those living in the city of Benghazi," House Democratic leader Nancy Pelosi said in a statement.
On the Senate side, majority whip Richard Durbin (D) of Illinois, Sen. Carl Levin (D) of Michigan, chairman of the Armed Services Committee, and Sen. Jack Reed (D) of Rhode Island, a member of that panel, praised the president on Wednesday for moving forward with support from the international community, especially the Arab League and the United Nations Security Council.
---