Libya intervention: Tea party and liberal Democrats make unusual allies
On Capitol Hill, the Libya intervention has elicited antiwar voices from opposite ends of the political spectrum. Their point in common: The power to make war resides with Congress.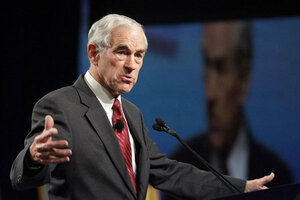 Darryl Webb/AP
Since the first US and allied bombers hit targets in Libya early Sunday morning, the rare voices of protest from Capitol Hill have been coming from a handful of lawmakers on the libertarian right wing of the Republican Party or the antiwar left of the Democratic Party.
These caucuses are ideological bookends on the hot-button fiscal and social issues currently before the Congress. While not meeting formally, they have found common ground in opposition to directing US military firepower in Libya without explicit authorization from Congress.
"Imposing a no-fly zone over a country is an act of war," said Rep. Ron Paul (R) of Texas, noting that the air war over Libya occurred on the anniversary of the US attack on Iraq. Like Iraq, "this could go on for a long time," despite White House claims to the contrary, he added.
On the left, Rep. Dennis Kucinich (D) of Ohio said: "War from the air is still war," and called on Congress to be called back into session immediately to decide whether or not to authorize the United States' participation in a military strike. "Article 1, Section 8 of the Constitution clearly states that the United States Congress has the power to declare war. The president does not. That was the founders' intent."
---