Planned Parenthood showdown could reveal true nature of tea party
If tea party Republicans stick to plans to defund Planned Parenthood – even at the cost of a government shutdown – it would raise questions about whether the movement is driven more by small government ideals or classic Republican 'values' issues.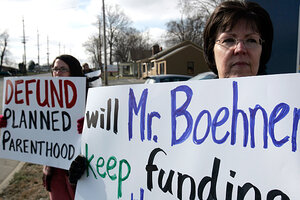 Gary Stelzer/Middeltown Journal/AP/File
Conservative groups' mounting attacks against Planned Parenthood are beginning to expose rifts within the tea party movement that could grow more pronounced as Congress nears a potential government shutdown April 8.
Earlier this month, the Susan B. Anthony List, an antiabortion group, bought TV ads in support of some tea party congressmen who voted to cut all federal funding for Planned Parenthood.
But Senate majority leader Harry Reid (D) said the Senate would block all such efforts, and he got a measure of support from Sen. Scott Brown (R) of Massachusetts, whose 2009 victory marked the rising tide of tea party clout. Cutting all federal funding for family planning was "going too far," Senator Brown said, though he didn't mention Planned Parenthood by name.
On one hand, the bid to slash funding for Planned Parenthood, the nation's top abortion provider, can be seen as an affirmation of the tea party's fiscally conservative, small-government credentials.
Yet Brown's comments suggest that the social issues behind Planned Parenthood are perhaps a stronger motive for some Republicans. Funding for Planned Parenthood, after all, is a negligible part of the deficit compared with military spending or entitlement programs, and federal funds cannot be used for the organization's abortion-related activities.
---