Geraldine Ferraro: V.P. candidate inspired a generation of women
Geraldine Ferraro, who passed on Saturday, broke political ground when she ran for the vice presidency on the Democratic ticket with Walter Mondale in 1984. They lost to Reagan-Bush, but she inspired a generation of women to go into politics.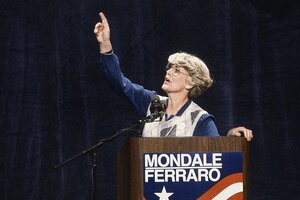 AP Photo/File
Geraldine Ferraro was a ground-breaking American politician who never forgot her working-class, Italian-immigrant roots. And as the first woman nominated as vice president on a major party ticket, Ms. Ferraro was an inspiration to many women no matter what their political inclinations.
Ferraro, who passed on Saturday, was a Democrat through and through, working especially hard for women's rights in the workplace.
When Walter Mondale picked her to be his running mate in the 1984 election, they faced a very steep uphill battle against incumbents Ronald Reagan and George H. W. Bush, and in fact they lost badly – winning only Mondale's home state of Minnesota and the District of Columbia.
IN PICTURES: Notable women in US politics
But despite their defeat, Ferraro saw the positive impact her effort had made. "Every time a woman runs, women win," she said.
Ferraro's father died when she was just eight years old, leaving her mother to work in New York's garment industry in order to support the family.
Ferraro was the first woman in her family to graduate from college, and after working as a public grade school teacher she went to law school – attending classes at night while continuing to teach second grade.
---