Nancy Pelosi puts her stamp on the House
Nancy Pelosi is a master tactician and the most powerful speaker in a half century. Behind her personal brand of power politics – and whether she will still be speaker after the midterm elections.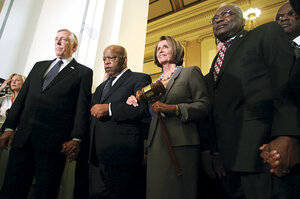 Lauren Victoria Burke/AP
Nancy Pelosi's office is all cream and gold, marble mantels and gilt mirrors, with that classic sight line straight down the Mall past the Washington Monument to the Lincoln Memorial. Instead of the smoke-filled rooms of House speakers past, the scent of lilies drifts out into the hall. The deep-red paint of Republican years in power was chipped off the walls of the corridor outside the office on Ms. Pelosi's watch, exposing an original 1901 mural – a classical maiden clasping a sheaf of wheat who, in Pompeian style, appears to be floating in air, with no visible means of support.
There's an art to being Nancy Pelosi. Visitors walking into her office with a can of soda are offered a glass. There's no Big Desk in the room that says power. It's not needed. Guests are directed to a chair facing the Mall. Her chair, framed by the most privileged view in Washington, is also positioned so she can follow House floor action on four small TVs off to the side, without looking distracted. In what may be an unintended consequence, the horizontal, late afternoon light gives her face a halo glow, and leaves guests squinting.
What stuns many visitors to the office, including House Democrats, are the personal details that she knows about them. Pelosi exudes an ease and grace in one-on-one meetings that doesn't show up on television or before crowds. At times, she comes off like a (stylish) grandmother tending the lost boys. "I'll use my mother-of-five voice," or, "It's my grandmother-of-eight look," she'll say. Her daily chocolate-ice-cream fix is another convivial touch, reinforced by Ghirardelli chocolate squares just a reach away.
IN PICTURES: Notable women in US politics
---