How key Democrats voted on health care bill: Pelosi's scorecard
House Speaker Nancy Pelosi had the formidable task of persuading 216 Democrats to vote for a Senate health care bill that many did not like. This is how she succeeded – and failed.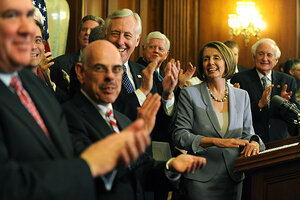 Kevin Dietsch/UPI
When Massachusetts elected Republican Scott Brown to fill the Senate seat of the late Edward Kennedy, health care reform seemed doomed.
In truth, it was an opportunity, say the Democratic leaders who led the successful effort to pass the bill Sunday.
Before that moment, the entire process had focused on "getting to 60" – crafting a bill that could get 60 votes in the Senate. After a snowy January Tuesday in Massachusetts, however, a new strategy was born:
Pass the Senate bill in the House, then fix it. If passing the fixes meant using the contentious and time-consuming process of reconciliation – which requires only a simple majority – so be it.
IN PICTURES: Health care reform passed: who Nancy Pelosi won and lost
"Scott Brown's election was a turning point," says House majority whip James Clyburn (D) of South Carolina. "Losing 60 votes [in the Senate] got us to a more realistic place: that the number for health care had to be 50 plus one, not 60."
"I never thought the things we had to do to get to 60 could produce a good plan that the House would agree to," he added, citing the now-notorious deals included in the Senate bill to win over holdouts needed to get to 60 votes.
---