Michigan unemployment benefits cut short: 'Huge win' or 'reckless'?
A new Michigan law shortens the duration of unemployment benefits from 26 to 20 weeks. A similar measure is before the Florida legislature.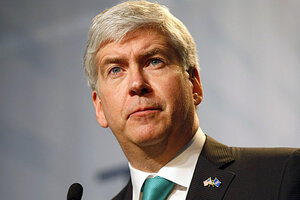 Rebecca Cook / Reuters
Starting next year, unemployed workers in Michigan will have six fewer weeks to collect benefits – the result of a bill passed Monday by the state's Republican-led legislature.
The measure, which goes into effect in January 2012, is being touted as fiscal responsibility in the face of Michigan's $1.4 billion deficit, but Democrats and labor advocates say it is particularly unfair in a state where the unemployment rate has consistently sailed above the national average.
Republican Gov. Rick Snyder signed the bill, which was originally drafted to extend federal unemployment benefits through the end of the year. The added measure will reduce state-funded benefits from 26 weeks to 20 weeks, which should benefit Michigan employers by lowering the unemployment taxes they will pay next year.
Michigan is the first state in the country to cut benefits to 20 weeks, but others may follow suit – starting with Florida.
The Michigan Chamber of Commerce called the bill's passage "a huge win" and estimates the resulting savings will total $300 million each year.
Michigan currently owes the federal government $3.9 billion in loans to support its unemployment benefit program, $117 million of which is due Sept. 30. The state is not alone in looking to the federal government for help; the US Department of Labor reports that by 2013, the 50 states will have borrowed a total of $65 billion for their unemployment programs. California, carrying $10.5 billion in unemployment debt, tops the list, followed by Michigan.
---