Obama's nod to Al Sharpton: asset or liability for 2012 reelection bid?
Obama attends the Rev. Al Sharpton's event Wednesday for his National Action Network. Rubbing shoulders with Sharpton may help Obama reinforce his standing with African-American voters, analysts say.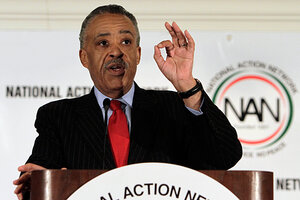 Richard Drew/AP
Many Americans may remember the Rev. Al Sharpton for his confrontational marches and his booming oratory, demanding – yes, demanding – corrective action for a perceived injustice.
He still marches when he has to. But these days the Rev. Mr. Sharpton is more likely to be seen in pinstripes, meeting with President Obama's Cabinet officials and raising money from Wall Street firms for his National Action Network (NAN). Former New York Mayor Ed Koch, who once had Sharpton arrested, now calls him a friend. And, on Wednesday, President Obama will travel to New York to attend the NAN's Twentieth Anniversary and National Convention.
Some political observers see the president's trip as an effort to firm up his African-American base in advance of the 2012 election. Others wonder if it's the kind of visit that might later become a campaign liability as Mr. Obama tries to woo moderate voters. Still others see it as a mark of acknowledgement that Sharpton has become a more positive force for change, no longer the radical known for interjecting race into every issue.
---