Georgia approves tough immigration bill modeled after Arizona's
If Gov. Nathan Deal signs an immigration bill passed Thursday by the legislature, expect court challenges. But also expect it to give momentum to similar bills being debated in Alabama, Florida, and several other states.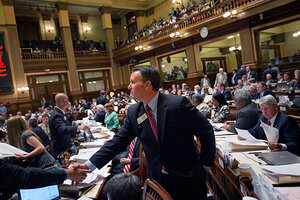 David Goldman/AP
The Georgia legislature jumped into the fray over illegal immigration late Thursday, approving a comprehensive "papers, please" immigration law akin to the one in Arizona that the Obama administration is challenging in court.
Led by the Republican majorities in both chambers, lawmakers voted to allow local and state police to ascertain the residency status of those suspected to be in the country illegally. A similar provision in the controversial Arizona law has prompted two federal courts to prevent its implementation.
The Georgia measure also requires employers with more than 10 employees to use the federal E-Verify database to ensure that all new hires are legally eligible to work, and it makes it a crime to harbor and transport illegal immigrants – or to encourage them to come to Georgia. The legislation calls for punishing those found guilty of using fake work documents with up to 15 years in jail.
The vote, which fell mainly along party lines, came as lawmakers in Georgia, Indiana, and several other states weigh the legal and political consequences of cracking down illegal immigrants within state borders. Georgia Gov. Nathan Deal (R), who has not said if he'll sign the bill, campaigned on getting tougher on illegal immigrants, while Indiana Gov. Mitch Daniels (R) this week said he opposed using state and local law enforcement to ferret out immigration lawbreakers.
---