Can Obama win back liberals with his new attack on the GOP?
For months, President Obama heard grumbling from his left. Now he seems to have taken off the gloves – rhetorically, at least – going after Republicans and laying out a more progressive vision.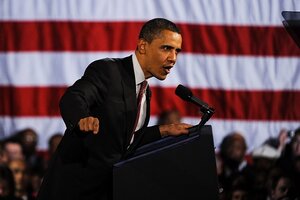 Newscom
For months, President Obama has heard grumbling from his left.
He caved on a public option for health care, liberals complained. He escalated the war in Afghanistan and failed to close the military prison at Guantanamo Bay. He let millionaires and billionaires keep their Bush-era tax cuts. He agreed to budget cutting without putting up a fight, and he dithered on gay rights
That was the rap anyway, not only on the substance of issues but in the way progressives were treated by the Obama White House – "with contempt," former Democratic National Committee Chairman Howard Dean told a Monitor breakfast in January. Dean blamed "a group of senior advisers around the president who … thought they knew everything and we knew nothing."
RELATED: Deficit commission – four points of agreement and four reasons it could fail
To many on the left, this seemed especially true in the way Obama handled budget cutting – rolling over on programs liberals hold dear.
---