Obstacles to Obama's reelection, starting with low public opinion
Obama's job-approval rating is as low as it's ever been, and one poll shows just 38 percent want him reelected. But he's a champion campaigner, and he's kicking off a series of town hall meetings this week.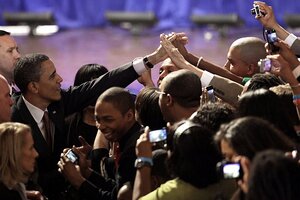 Nam Y. Huh/AP
As he launches into a week of town hall meetings, freshly invigorated by his tougher talk on a political vision that includes more taxes for the wealthy and protection for progressive programs, President Obama faces a tough political reality.
He's as low as he's ever been in the eyes of the public – particularly among the independent voters he'll need to win reelection next year.
In that sense, he's in at least some good company. Among recent presidents, Jimmy Carter, Ronald Reagan, and Bill Clinton faced a similar obstacle in their first term. Reagan and Clinton survived; Carter was shown the door.
The latest Gallup Daily tracking three-day average shows 41 percent of Americans (and only 35 percent of independents) approving of the job Obama is doing as president. That ties his low, registered three times previously – twice in August 2010 and once in October 2010.
"President Obama is now as unpopular as he has been at any time since he became president," Jeffrey Jones writes in a Gallup analysis of the most recent polling.
The bump-along economy and high gas prices at the pump are among major factors, Gallup finds, plus the tea party-fueled House of Representatives now run by Republicans.
"His ability to navigate these challenges will help determine whether he will be elected to a second term as president," Jones writes.
Winning that second term now becomes virtually a full-time job, since everything a president does has a political dimension testing his ability to communicate his specific position as well as broader vision.
---
Follow Stories Like This
Get the Monitor stories you care about delivered to your inbox.