John Ensign resignation puts focus on Nevada elections. Will GOP have an edge?
Facing scandal, Sen. John Ensign (R) of Nevada is resigning. That allows Republican Gov. Brian Sandoval to name a replacement, which in turn could open up a US House seat.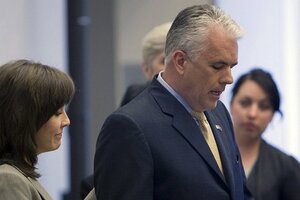 Steve Marcus/Las Vegas Sun/Reuters
Sen. John Ensign's resignation aims to halt a nearly two-year Senate ethics investigation and spare the two-term Nevada senator and his family a public trial.

Political handicappers say it could also give Republicans an edge to hold on to a seat expected to be highly competitive in 2012. Senator Ensign's replacement will be named by a Republican governor and stands to pick up the typical incumbency advantage.

But in fact, neither of those outcomes is clear. In a joint statement, leaders of the Senate ethics panel said that "the Senate Ethics Committee has worked diligently for 22 months on this matter and will complete its work in a timely fashion."
Shaking up 2012: US senators who aren't running for reelection
"Senator Ensign has made the appropriate decision," said the panel's chair Barbara Boxer (D) of California and vice-chair Johnny Isakson (R) of Georgia, in a statement. That could include the public release of findings and documents that Ensign had hoped to avoid.

The details of Ensign's admitted affair with a former aide – and the cash and political favors around it – made Ensign's Senate seat a top prospect for Democrats in 2012.

Until last month, Ensign had committed to defend his seat, claiming that he had broken no law.
---