Indiana governor vows to block federal funds for Planned Parenthood
Gov. Mitch Daniels says he will sign a bill to deny Planned Parenthood, the nation's leading abortion provider, $2 million in federal funds. It will also strengthen antiabortion laws.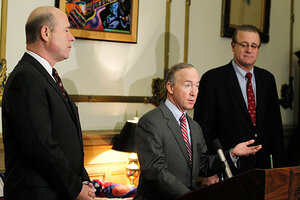 Darron Cummings/AP
Indiana will become the first state to block funding for Planned Parenthood following an announcement made late Friday by Gov. Mitch Daniels (R) that he will sign a bill to deny the group about $2 million in federal dollars.
Indiana legislators voted to approve the bill last week, which left speculation about whether or not Governor Daniels would sign it into law.
Apart from eliminating the group's funding, the bill includes other requirements that would give Indiana some of the strictest abortion laws in the country. The restrictions include a ban on the procedure following the 20th week of pregnancy unless the woman's life is in jeopardy and requiring abortion providers to tell women seeking abortions that life begins at conception, that the procedure is linked to infertility, and that fetuses can feel pain at 20 weeks or earlier.
In a statement, Daniels said he plans to sign the bill in "a week or so from now" when it reaches his desk.
But legal questions remain, primarily because the law would deny the use of Medicaid at Planned Parenthood. "Medicaid law is pretty clear: You cannot unplug a provider because they're providing a constitutionally protected service," says Betty Cockrum, executive director Planned Parenthood's Indiana chapter.
She says the organization plans legal action and is even looking into the possibility of filing a lawsuit seeking an injunction against the bill before it is officially signed by Daniels. Ms. Cockrum says making the bill law will constitute an unlawful act.
---