Are Donald Trump and his fellow 'birthers' racist?
Donald Trump faces a backlash from those who see the "birther" movement as a new form of racism, which a new study seems to confirm. Trump has problems with conservatives too.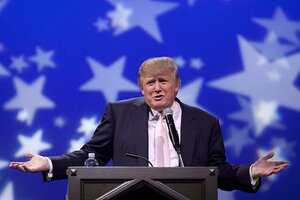 Julie Jacobson/AP
Is Donald Trump a racist? Probably not, although there was that odd moment the other day when he said, "I have a great relationship with the blacks."
"The blacks?" Hmm. To Frank James, who blogs at NPR, Trump was "sounding a bit like Archie Bunker."
The most famous promoter of birtherism – the assertion that Barack Obama wasn't really born in the United States and therefore is ineligible to be president – faces a growing backlash from those who see the whole birther movement as an "insidious new form of 21st-century racism," as Clarence B. Jones, scholar in residence at Stanford University, put it the other day on Huffington Post.
IN PICTURES: The Donald who would be king
"It's all fun, it's all a circus, it's all a rodeo, until it starts to smack of racism," TV host David Letterman scolded, speaking specifically of Trump. "And then it's no longer fun."
---