Fed up with Phoenix, Tucson talks secession from Arizona
Arizona's conservative politics – and Phoenix's dominant role – lead some in Tucson to call for secession. It's a divide that dates back to the 1800s.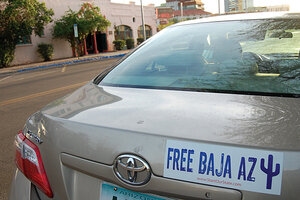 Lourdes Medrano
Phoenix and Tucson, Ariz.
There is a whiff of revolution on Fourth Avenue in Tucson. Inside a pub crowded with copper-clad tables sit Democrats – lots of them – often wondering aloud how they came to live in a state like this.
Phoenix, their northern neighbor and the state capital, is only a two-hour drive away, yet it is a different universe. In this pub packed with politicos and professors, the actions of Phoenix and the statehouse there are viewed with as much exasperation as in any East Coast blue state.
The Legislature passes a bill requiring police officers to ask for the documents of anyone they stop who looks like an illegal immigrant. The sheriff of Pima County, which includes Tucson, calls it "stupid" and refuses to enforce it. The state passes a law to ban all ethnic studies at public schools. Students at Tucson Unified School District storm a school meeting and chain themselves to chairs.
And here at the Shanty pub, Paul Eckerstrom has had enough. Meeting weekly with fellow malcontents, he is plotting how best to free his city from the tyrannies of Phoenix. His organization is Start Our State, and its goal is nothing less than a 51st state: Baja Arizona.
"There's always been kind of a resentment that Phoenix dominates Arizona politics and therefore they tell us what to do," says Mr. Eckerstrom, a former Pima County Democratic Party chairman. "They say they don't want the federal government to meddle in state politics, but they're interfering with our county and municipal governments."
---