9/11 families to Obama: 'Thank you for doing what you promised'
Handshakes and hugs marked Obama's visit to ground zero on Thursday. His post-Bin Laden meeting with families who lost loved ones on 9/11 gave some comfort, said several attendees.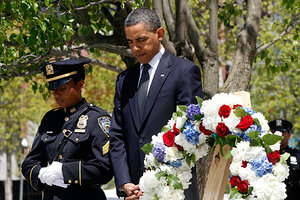 Charles Dharapak/AP
President Obama's visit to ground zero on Thursday was all about handshakes and hugs – not high fives to celebrate the death of Al Qaeda leader Osama bin Laden, an architect of the 9/11 terrorism attack.
It had its poignant moments, such as the president's meeting with young Payton Wall of Rumson, N.J., who lost her father, Glen, on that September day and then wrote Mr. Obama to tell him how she has handled the loss.
It had some symbolism – Obama laying a red, white, and blue wreath at the foot of the "Survivor Tree" originally planted at the World Trade Center site in the 1970s. It was rescued from the smoldering ruins of the site and nursed back to health.
There was also plenty of patriotism – the Star Spangled Banner hanging from construction cranes at ground zero, flag-waving New Yorkers outside the site.
But most important, the event seemed to provide some comfort to the families of those who lost loved ones on 9/11.
"Without a doubt, it certainly helps," Alexander Santora, who lost his son, a firefighter, on 9/11 told the Monitor. "People keep asking, is there any kind of closure? There is never closure when you've lost a child, especially when you lose a child in such a horrific way. There is always a hole in your heart."
---