Obama immigration speech in Texas: a bald plea to Hispanic voters
The partisan tone of Obama's speech on immigration reform and the barbs he aimed at Republicans made it clear he was courting Hispanic voters whose support he will need in 2012.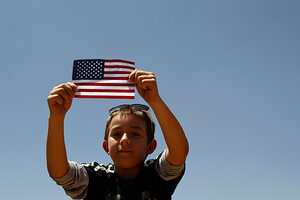 Jim Young/Reuters
President Obama laid down a marker Tuesday for Hispanic voters: He will keep fighting for a reform of the US immigration system that includes a path to citizenship for undocumented workers.
Mr. Obama made the pledge in El Paso, Texas, near the Mexican border, in a speech that was ostensibly about a plan for comprehensive immigration reform. But in its partisan tone could be heard the stirrings of his 2012 reelection campaign.
Obama asserted that he had fulfilled the "borders first" requirement of Republicans, who have argued that comprehensive immigration reform cannot be considered until US borders are secure. He said that there are now more border patrol agents on the border than ever before, and that the border fence is now "basically complete." And he detailed other measures, including a tripling of intelligence analysts working the border and a move to screen 100 percent of rail shipments heading south into Mexico, to intercept guns and money.
"So, we have gone above and beyond what was requested by the very Republicans who said they supported broader reform as long as we got serious about enforcement," Obama said, "But even though we've answered these concerns, I suspect there will be those who will try to move the goal posts one more time."
---