Sen. John Ensign sex scandal spreads to other Republicans
Sen. Tom Coburn and former Sen. Rick Santorum appear to have been involved in the scandal that brought down former Sen. John Ensign. A Senate Ethics Committee investigation could lead to criminal charges for Ensign.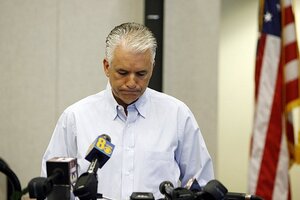 Isaac Brekken/AP
The sordid tale of former Sen. John Ensign (R) of Nevada is casting its dark ethical – and perhaps legal – shadow wider and wider in Washington.
Aside from the likelihood that Ensign will face criminal charges, recent revelations don't paint a very good picture of Sen. Tom Coburn, former senator and presidential candidate Rick Santorum, nor the Justice Department.
When details of his affair with the wife of a former staffer and close family friend revealed what looked to many observers like a cover-up – including the payment of large sums of money via his parents – Ensign announced that he would not run for reelection. Then last week he abruptly resigned his seat in order to avoid having to personally face a Senate Ethics Committee investigation and his likely expulsion from the Senate.
This week, the bipartisan investigating committee, headed by Sen. Barbara Boxer (D) of California and Sen. Johnny Isakson (R) of Georgia, issued its scathing report.
---