US reaches debt limit: What comes next?
US government has reached the debt limit set by Congress, Treasury's Tim Geithner said Monday. Treasury has ways to keep paying the nation's bills until August. All eyes are now on Congress.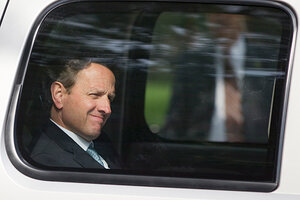 Evan Vucci/AP
Total US government debt reached the $14.29 trillion limit set by Congress, forcing the Treasury to take extraordinary measures to keep paying the nation's bills, Treasury Secretary Tim Geithner said Monday.
The event didn't catch the Treasury or Congress by surprise: Mr. Geithner has warned for months that Treasury borrowing was nearing the cap. But it does guarantee that wrangling will intensify in the weeks and months ahead over the terms under which Congress will raise the limit to allow more borrowing.
The challenge is that, with rising national debt a big worry both for voters and financial markets, it's hard for Congress to agree on a path forward. Many Republicans argue that steep curbs on federal spending must be part of any legislation to raise the debt ceiling.
Geithner declared a "debt issuance suspension period" for the Civil Service Retirement and Disability Fund, a move that allows the Treasury to gain some headroom by redeeming Treasury securities held by the retirement fund, and to stop issuing new Treasury securities to the fund as investments for the time being. Similarly, he suspended reinvestment of Treasury securities held in the so-called G-fund, a money-market fund for federal government employees.
The moves amount to temporary gimmicks, since eventually the Treasury will have to play catch-up in funding those programs. But the tactics will allow federal operations to continue as usual until early August, the Treasury estimates. That amounts to an implied deadline for Congress to raise the limit, most finance experts say.
---