Senate Democrats shoot down GOP's House budget plan. Now what?
Wary of the impact on Medicare, five Republicans joined Senate Democrats in defeating the Republican budget plan written by Rep. Paul Ryan. But the Democrats have no plan of their own, and this could hurt them.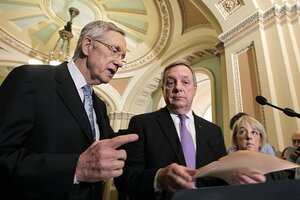 J. Scott Applewhite/AP
The Senate Wednesday voted to defeat a highly controversial House budget plan for fiscal year 2012 that quickly registered as a liability with voters for lawmakers that supported it. But, in an omission that could also be controversial, Senate Democrats have failed to produce their own plan for getting the nation back on a sustainable fiscal path.
Democrats voted unanimously to defeat the House budget plan, drafted by Rep. Paul Ryan (R) of Wisconsin, which would cut $4.4 trillion in spending over 10 years and reduce Medicare to a government subsidy to purchase private insurance.

They were joined by five Republicans, Sens. Scott Brown of Massachusetts, Lisa Murkowski of Alaska, Rand Paul of Kentucky, and Susan Collins and Olympia Snowe, both of Maine. The measure failed 40 to 57.
The president's budget, deemed a nonstarter because it projects a $1.1 trillion deficit for FY 2012, failed to win a single vote from either party. Proposals by Sens. Pat Toomey (R) of Senate and Rand Paul (R) of Kentucky also failed.

Senate majority leader Harry Reid (D) of Nevada called the vote a victory for priorities.
---