Huma Abedin and wronged political wives: few options, hard choices
Scandal-tarred Rep. Anthony Weiner says he and his wife, Huma Abedin, will stay together. She has not spoken publicly. How political wives respond to wrongdoing may affect their husbands' political survival, some analysts say.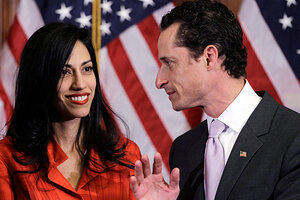 Charles Dharapak/AP
In most political sex scandals, there is a wronged wife, usually conveying a mixture of dignity and pain.
Sometimes when the time comes for the admission of guilt, the wife is standing by her husband's side. Sometimes she is nowhere to be seen. Sometimes the marriage survives, and sometimes it doesn't. Ditto the husband's career.
In the case of Huma Abedin, the woman married to Democratic Rep. Anthony Weiner not even a year, the story has an added dimension. She is expecting their first child, a fact that came to light a few days after the New York congressman admitted to sending lewd photos of himself to women and carrying on long-distance, sexually charged relationships with them.
But in many other ways, Ms. Abedin is the classic political wife, "caught between a rock and a hard place," says Myra Gutin, a communications professor and expert on first ladies at Rider University in Lawrenceville, N.J. "There's the whole issue of being supportive of your spouse, a la Hillary Clinton in '98, standing by her man. Then there's the heinousness of whatever your spouse has done, and how to address that in private."
---
Follow Stories Like This
Get the Monitor stories you care about delivered to your inbox.