Budget math: Is too much 'off the table' to really fix US deficit?
With Republicans and Democrats taking tax hikes and half of US spending off the table, what's left is big whacks from defense and other discretionary items in the US budget. It's as if a family needs to stop deficit spending, but won't adjust its income, mortgage, or health care and retirement plans.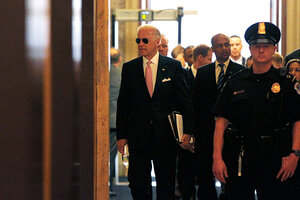 J. Scott Applewhite/AP
Picture a family that gets in over its head in debt. The two heads of the household decide the problem needs urgent attention, but that they won't consider any solutions that involve changes to their income, their mortgage and housing costs, their health care, or their retirement plans.
Now picture that family being the United States, as represented by its elected officials.
That's essentially what's happening now in Washington, as Democrats and Republicans agree on a major problem but not on how to fix it. On Thursday, bipartisan talks led by Vice President Joe Biden continue. After the group met Wednesday, lawmakers expressed optimism about reaching a fiscal deal, even though some key pieces of the nation's finances are currently viewed as "off the table."
Republicans generally don't want to consider raising taxes as part of a plan to reduce federal deficits. And the rift between the two parties over how to fix Medicare and Social Security has pushed those entitlement programs to the sidelines.
So the two parties are focused on other parts of the federal budget – such discretionary spending and where to cut it – as they rush to put a fiscal deal in place before Aug. 2. Both sides agree that it's a good idea to act by early August, ideally a bit ahead of that Treasury-announced deadline, to avoid a serious funding challenge for the nation. After that, the government won't be able to borrow, by issuing new bonds, unless Congress has raised the debt limit.
The limited scope of the bipartisan talks doesn't mean they are fruitless.
---