GOP presidential hopefuls dance around climate change
Republican presidential candidates steer away from anything suggesting government action on climate change, some – Pawlenty and Gingrich – reversing earlier positions. Romney says the problem is real, but offers no solutions. That alone has raised conservative ire.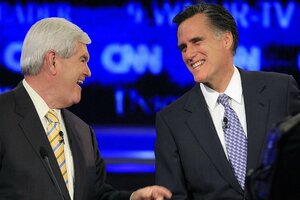 Jim Cole/AP
There was a time when Republicans were at the forefront of efforts to investigate – maybe even do something about – the impact of human activity on global climate.
John McCain was an early and persistent supporter of cap-and-trade efforts to reduce the greenhouse gases (mainly carbon dioxide) associated with climate change. So was Newt Gingrich, who went on to make a YouTube video ad – with then-House Speaker Nancy Pelosi, no less – where he said, "Our country must take action to address climate change."
Now, Republican presidential hopefuls seem to be racing in the opposite direction – disavowing their past support for policy measures on climate – even any sense that there's a problem to be addressed.
As Governor of Minnesota, Tim Pawlenty signed a state greenhouse gas law limiting emissions, led a regional climate partnership with Illinois, Iowa, Michigan, and Wisconsin, and he supported cap-and-trade. Since then, he's flip-flopped.
---