California has a balanced budget. Did Gov. Jerry Brown win or lose?
California Gov. Jerry Brown expended some political capital in his bid to close the state's budget deficit with a mix of cuts and higher tax revenue. He didn't get such a deal, but as of Tuesday night the state does have a budget.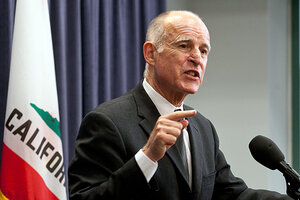 Damian Dovarganes/AP/File
California's long journey to a balanced state budget is over.
And Gov. Jerry Brown (D), who won accolades for his plain talk about the painful measures in store for Californians as they embarked on that path and who spent heavily from his political capital along the way, will sign it, analysts say.
In the end, did he get what he wanted?
The rosiest of assessments is that he got as much as he could, but it does not appear to be much. The budget that the Legislature approved Tuesday does not include any of the tax extensions he wanted to help California meet its shortfall, relying instead on cuts in spending and the assumption that an improving economy will lead to $4 billion in new revenue.
And in a worst-case scenario, if the economic recovery is insufficient, the budget includes a mechanism for major service cuts to compensate for the nonexistent revenues. That could be costly indeed.
"It might not look so good … if revenues fall short of the highly optimistic assumptions, [and] the resulting cuts will be unpopular," says Jack Pitney, professor of government at Claremont McKenna College. "It's like treating chronic fatigue with candy bars and caffeine."
Republicans focused immediately on that estimated revenue windfall, with Senate Budget Committee Vice Chairman Bob Huff calling it a "wand that Harry Potter would be proud to wield," according to the Los Angeles Times.
---