Trillion-dollar question in debt-ceiling talks: What can pass the House?
President Obama and the Senate appear to be on the same page in debt-ceiling talks. But House Republicans are so far holding firm on their no-new-taxes demands.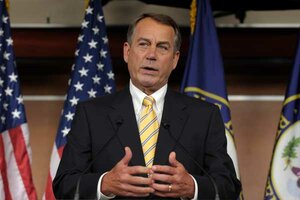 Susan Walsh/AP
Whatever deal emerges from White House debt-ceiling talks, the push to avoid a default comes down to what will fly in the GOP-controlled House.
Reports of an agreement between the White House and Speaker John Boehner (R) of Ohio surfaced on Thursday – and were promptly denied – but not before riling House members on both sides of the aisle, concerned that their side had given away too much.
House Republicans say that the ball is not in their court. Their "cut, cap, and balance" bill, which passed on a near-party line vote on July 19, proposed raising the debt limit, contingent on Congress's passing a balanced-budget amendment to the US Constitution.
"What we think is that cut, cap, and balance is the only plan put on paper, the only plan debated, the only plan passed, the only plan with bipartisan support, and the only plan that can solve the problem," says Rep. Jim Jordan (R) of Ohio, who chairs the 175-member Republican Study Group, the largest conservative group in the House GOP caucus. "That's where we're at."
But "cut, cap, and balance" is heading nowhere in the Democrat-controlled Senate, where majority leader Harry Reid on Thursday dubbed it "weak and senseless,… perhaps the worst legislation in the history of this country."
The Senate is set to vote on the bill on Friday, and the bill is expected to fall short of the votes needed for passage.
So with the House conservatives' preferred option presumably off the table, the focus shifts to what House Republicans – and especially the volatile 87-member House freshmen class – can accept as an alternative.
---