Wall Street, wary but expectant, awaits debt ceiling deal from D.C.
The markets are counting on Washington to raise national debt ceiling by Aug. 2, but that's not all. Wall Street also expects a deal that cuts the size of US budget deficit. How much is it looking for?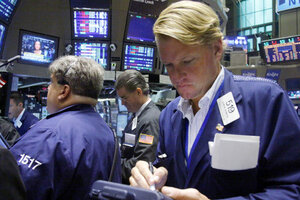 Bebeto Matthews/AP
A US government default on national debt? That's not what Wall Street is expecting.
While the debt ceiling negotiations continue in Washington, many Wall Street money managers simply don't believe that Uncle Sam will not meet his obligations. Yes, the dragged-out drama may produce some sweaty palms in America's financial capital and stocks may have moments of weakness – as they did Friday, when a skittish Dow Jones Industrial Average was down about 30 points at midafternoon. But the notion that the US Treasury would not pay its bills after Aug. 2 is almost inconceivable to Wall Street.
In Congress, "they may go to the 11th hour, 59th minute, 59th second, and they probably will, because that is the way the system works," says David Kotok, chairman of the money management firm Cumberland Advisors in Vineland, N.J. "But we are not going to have government default."
The "no default" crowd is the "consensus view" among financial movers and shakers, says Pete Davis, who advises Wall Street firms on the ins and outs of Washington politics. However, he says, "When you talk about all the details [of a prospective debt-deficit deal] – which are pretty problematic, unresolved, and contradictory – it becomes a lot less clear."
---