Hundreds of same-sex couples say 'I do' in New York
Sunday was the first day gay couples could be legally married in New York. Hundreds lined up to say "I do." New York brings to six the number of states where such marriages can be performed.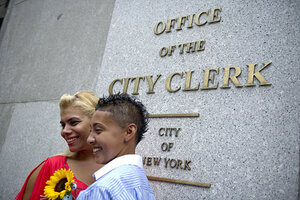 Ann Hermes/The Christian Science Monitor
In New York City, hundreds of jubilant same-sex couples waited in long lines for a chance to be married on Sunday, the first day that gay partners could officially wed in the nation's latest and most populous state to legalize gay marriage.
"It symbolizes equality. But it also symbolizes that this is about love and families, as much as it is about laws," Greg Payton said before walking hand-in-hand into the City Clerk's office in Brooklyn with his fiancé, Robert Lafferty.
Sunday marked the nine-year anniversary of the day the two men met. Shortly before noon, it became their wedding day.
The Marriage Equality Act was passed and signed on June 24, but did not go into effect until Sunday. The law adds New York to the list of five other states that permit same-sex marriages: Connecticut, Iowa, Massachusetts, New Hampshire, and Vermont, as well as the District of Columbia.
---