Now, Congress down to its last strike to avoid debt-ceiling default
By rejecting the bill passed by the House Friday, the Senate essentially now has one last shot to get a debt ceiling increase through Congress before the Aug. 2 deadline.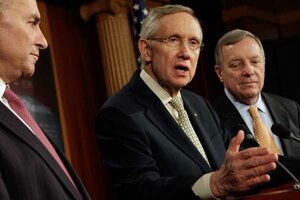 Yuri Gripas/REUTERS
After a night of high drama on Capitol Hill, a legislative solution to the debt crisis now shifts to the Senate, where leaders of both parties must now try to guess what will pass in the House – perhaps the worst bet in all of politics.
The situation is the result of strategic mistakes in the buildup to Friday's debt-ceiling votes, which produced an outcome exactly the opposite of what GOP leaders had hoped. Speaker John Boehner (R) of Ohio had hoped to win support from House Democrats this week by scaling back the House's earlier "cut, cap, and balance" bill. With Democratic support in the House, the bill would have had a credible shot in the Democrat-controlled Senate.
Instead, his proposal alienated not only House Democrats but also the president and GOP conservatives. After an aborted attempt to hold a vote Thursday, an amended bill did at last pass the House Friday, 218 to 210, but without a single Democratic vote and without 22 Republican defectors. Later Friday, it failed in the Senate, which voted to table Mr. Boehner's bill, 59 to 41, effectively derailing it.
That makes the plan coming out of the Senate likely the last chance for Congress to vote to raise the debt ceiling before Aug. 2, when the country would default on some domestic spending obligations, which could include checks for Social Security recipients and veterans.
---