The tea party and the debt deal: Fiscal 'terrorists' or principled heroes?
Shrugging off unfavorable polls and harsh criticism from Biden and other Democrats, the tea party faithful take stock of their influence on Capitol Hill's debt deal and look ahead to the next battle.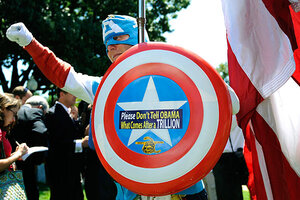 Jonathan Ernst/Reuters
Local tea party activists Tuesday shrugged off Vice President Joe Biden's reported use of the word "terrorist" – and the use by other Democrats of terms like "arsonists," "saboteurs," and "extortionists" – to vent anger at a debt-ceiling deal that, largely because of the tea party, included no new taxes while mandating massive spending cuts.
"The tea party is just people wanting their voices to be heard … so it's sad that Vice President Biden calls us terrorists for speaking our minds," says Brad Scott, a tea party activist in Knoxville, Tenn. "But at the same time, I have to say, he's giving great soundbites [to the Republicans] for the 2012 election."
Barraged from its early days with invectives from the left, the tea party movement has steadily marched on, helping Republicans retake the House in 2010, and, this weekend, forcing the Republican leadership into a game of chicken with the White House – where President Obama blinked first, backing off his vow that increased tax revenues must be part of the debt deal.
"They discounted us to start with, then they started laughing at us, then people like Biden started attacking us – and in all that we see hope that maybe we might win in the end," says Buddy Gray, a tea party organizer in Calhoun, Ga.
---