Rick Perry, on eve of likely presidential run, gambles with big faith rally
Texas Gov. Rick Perry, who is weigning a presidential run, is headlining 'The Response: A Call to Prayer for a Nation in Crisis.' The evangelical event could help him in GOP primaries but make voters in a general election nervous.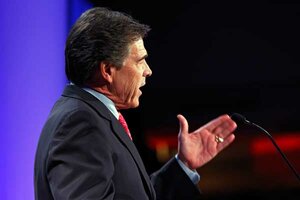 Ed Andrieski/AP
When Texas Gov. Rick Perry got the idea of holding a big Christian prayer rally after winning his third term last November, running for president was barely a blip on his radar screen.
Now, in all likelihood, Governor Perry will launch a presidential campaign by the end of the month, and "The Response: A Call to Prayer for a Nation in Crisis" has arrived. On Saturday, Houston's Reliant Stadium will host 8,000 people, including prominent religious leaders – some of them controversial. All the nation's governors were invited, but only one accepted: Sam Brownback (R) of Kansas, and his attendance is in doubt.
The evangelical Perry will be present for the entire seven-hour event, and plans to speak. As a political event, Perry's prayer summit could pay dividends in the race for the Republican presidential nomination. Religious conservatives form a critical part of the GOP's activist base, and he could steal votes from other evangelical Christians in the field, including the two Minnesotans, Rep. Michele Bachmann and former Gov. Tim Pawlenty.
"I don't think [the rally] will hurt him in the primaries; in fact, it might even help him," says John Green, an expert on religion and politics at the University of Akron in Ohio. "But were he to get the Republican nomination, this kind of event could become controversial."
---