On Michele Bachmann announcement day, a tea party nod to Rick Perry
(Read article summary)
An informal poll of tea partyers gathered for training in Washington found the strongest support for a noncandidate, Rick Perry. Michele Bachmann came in a close second.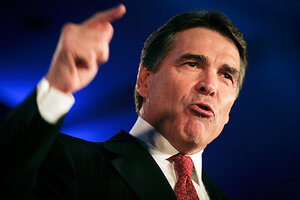 Lee Celano/Reuters
First, a disclaimer: The poll was completely unscientific. Some 160 tea partyers from around the country had gathered at the Washington headquarters of FreedomWorks, a conservative group that trains tea partyers in political organizing and advocacy. With reporters watching, the assembled activists were asked for a show of hands on the Republican presidential candidates.
The winner: Texas Gov. Rick Perry. He isn't a candidate yet, and it's not certain he ever will be. But Governor Perry's "victory" is just one small indication that, were he to run, Perry would start with the goodwill of the GOP's most energetic wing.
Michele Bachmann, the Minnesota congresswoman who formally announced her presidential campaign Monday morning in Iowa, came in a close second. Ron Paul, the libertarian-leaning Texas congressman, came in third. "Undecided" also did well.
In interviews, many tea partyers said they were glad to have many acceptable choices. In the straw poll, former Massachusetts Gov. Mitt Romney was booed when his name came up, but without exception, activists said they would vote for him in the general election if he gets the Republican nomination. But some said they didn't think Mr. Romney would get the nomination, despite his strong showing in both national polls and surveys of early nominating states.
---