For Wisconsin Democrats, recall of Gov. Scott Walker would be tall order
Democrats in Wisconsin and some of their union backers are vowing to launch a recall effort to try to unseat Republican Gov. Scott Walker. But a 2012 recall could be problematic.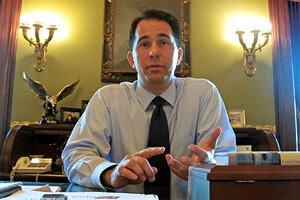 Scott Bauer/AP
The bruising fight in Wisconsin over which party controls the state Senate – and provides either a smooth or rocky path for legislation favored by controversial Republican Gov. Scott Walker – is over, but perhaps not for long. The next act of this political drama may be a recall effort of the new governor himself, according to state Democratic officials and their backers.
Having failed in Tuesday's recall elections to oust enough Republican senators to win control of the state Senate, Wisconsin Democrats appear unwilling to halt their campaign. The paperwork to start a gubernatorial recall is due in November, and 540,208 signatures would be needed before Jan. 3 to qualify a recall election for the ballot.
Much is at stake, as Wisconsin Democrats see it. After the 2010 midterm election, Republicans took control of the governor's office and both chambers of the Legislature, making it possible to push through Governor Walker's "budget repair bill" that curtailed the collective bargaining rights of public employees. Issues ahead include tax cuts, as well as redistricting for political seats, by which Republicans could cement their gains.
But a gubernatorial recall effort could prove to be a risky move for Democrats. It isn't clear that state Democrats could get as much financial support from unions and other supporters outside Wisconsin during a presidential election year, when there are many other Democratic causes looking for backing. Nor is it clear the Wisconsin public has the stomach for another recall battle.
Governor Walker himself suggested as much Wednesday, telling the Milwaukee Journal-Sentinel that the public is "tired of seemingly year-round campaigning." "Whether it's a gubernatorial recall, or any other recall, I don't think there's a whole lot of enthusiasm for having a whole 'nother wave of ads and money come into the state of Wisconsin," he said.
---