Why Congress is now ready to OK three long-stalled trade agreements
The House and Senate are poised Wednesday to approve three trade agreements, crafted during the Bush administration, with South Korea, Panama, and Colombia. They'll be the first big trade pacts since NAFTA in 1993.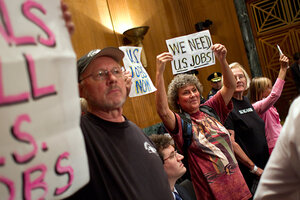 Evan Vucci/AP
In a rare flash of common purpose, Congress is poised Wednesday to approve three long-delayed trade pacts with South Korea, Colombia, and Panama, with big bipartisan votes.
The pact with South Korea would be the most significant US trade deal since the North American Free Trade Agreement (NAFTA) in 1993, signed with Canada and Mexico. South Korean President Lee Myung-bak will speak to a joint session of Congress Thursday, and the event is expected to be warm and celebratory, given the expected House and Senate passage of the three trade deals.
So, why did it take more than five years to get an outcome that is now barely contested?
Trade deals are a wild card in American politics. They are game changers for whole sectors of the economy – creating new markets for some and insurmountable problems for others. President Obama says the three pacts could increase US exports by at least $13 billion.
But politicians, recalling the public backlash to NAFTA, have also been wary that the American public could take a dim view of new trade agreements, which can have a devastating effect on whole regions, just as the 2012 election is ramping up.
Deep divisions on "free trade" exist within the same party, as speakers in Wednesday's debate made clear. "These are very difficult issues for members of this body to undertake," said Rep. Richard Neal (D) of Massachusetts, who represents a district that has 26,000 export-related jobs and supports the trade legislation.
---